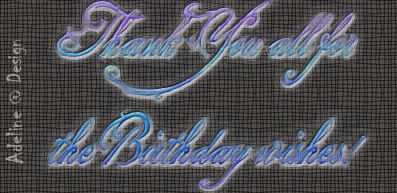 Here I would like to thank the people who have been thoughtful to wish me on my birthday. Everyone get the thank you from me. To those who have sent me text messages to my mobile phone, Thank you

...
Those who have made the effort to get me cards, some even dropping by my house to give to me, some by postal… Thank you

.
Also would like to thank you
JY, "My Dear Dear
" for all the wishes he gave me throughout the day, from posting an entry in his blog to giving me a testimonial in Friendster to messaging me in MSN. Really appreciate it, dear dear

.
But yes, I appreciate every effort done to wish me. Thank you all so much

.


ATB ~ Sensuality