What? What?!

*yada yada yada…* I know I know… I am late with this entry

. Well, don't blame me… I have been busy with my work and work

. Yeah you read that right
WORK
! Datelines everywhere… so much for my vacation for a break

.
Anyway I am here to post about mah trip to Hong Kong. Honestly I can't remember much of what happen in Hong Kong. Maybe due to the whole thing that throughout the trip I was cold and ehm… tired

. Hey you can't blame a person for having lousy memory (and I just check my friendster that Caren put me as a good memory person in mah testimonial

, how ironic

).
Anyhoo, I was in Hong Kong on the 4th March to 7th March 2006. There with one of my best friends named Corinne. Yea we are missing another mate, Melissa (curse you Mel! Why didn't you agree to come along?!
)
So the journey begins; Hope you all don't doze off reading this entry

....
Saturday, 4th March 2006:
Flight was at 0800hours; I have been having a chronic headache throughout my Friday night. Was feeling all dizzy and sorts so I went to bed early that night to wake up at 0400hours to get ready for the journey to my Hong Kong trip. Ok let's cut thing short

.
It was a 3hours 30mins journey on flight to Hong Kong. We rode on China Airlines. Damn one of them Stewardess only greeted the males and not females

. Sexist can? Watched Aeon Flux an in flight movie, (and bla bla bla things in the plane

), we arrived Hong Kong Airport at about 1200hours or so. Walking around the Airport like two blur case

, we couldn't find our tour company that is supposed to pick us up. After some duration of time we found it and they were all only waiting for us two

.
Journey to the Hotel, arrive hotel, check in and crash into bed. Just to rest for the short time and we are out and about again. We stayed in a Stanford Hotel in Mong Kok. Shopping and I already got myself a Bossini winter jacket (Yea what are my chances of wearing it here? Well, who knows I maybe traveling further

).
On foot around Mong Kok was sure a lost case. With the map in hand we manage to bumped around. Evening came fast, we joined a pack of tourist to tour the night places like The Peak, Avenue of Stars and a lot of other places I can't remember

. We also went to Lan Kwai Fong which is like Bangsar. A place of pubs and clubs; though I must admit Lan Kwai Fong looks better maybe because cars are not allowed in the area so it doesn't look all so packed up.
Here are some of the pictures of the night tour.
Hong Kong City at Night
Avenue of Stars
Hong Kong City at Night from the Peak view

Lan Kwai Fong, a place of pubs and clubs.

Tired day, reaching the hotel room, I showered and dozed off almost immediately when my head reaches the pillow.
Sunday, 5th March 2006:
Sleeping in and waking up only at 0900hours; it was a cold day outside. Went shopping and all… I had "Ngau Yuk Chuk" (Beef Congee) in the morning, I don't recall having lunch though we had some "Tong Shui" and "Dim Sum" at some "Char Chan Teng" and had some "Ngau Yuk Chau Hor Fun" for dinner. Yea there's nothing much to say for this day because it was well, purely a day we went walking around shopping. Sorry I did not take any pictures of the food.
My friend brought me back to Avenue of Stars to see Hong Kong's Lights of Symphony. It was quite a foggy evening so can't really see much of it. It was cold there, I like the wind blowing though I was wishing someone would hold me close then

and warming me up while I watch the blurry sky for the dancing lights. Thank you Corinne for bringing me back there to see it.
Monday, 6th March 2006:
The day I see Ocean Park

. We took a cab to Ocean Park, OMG it was HK$109! Expensive… Though I was satisfied with the place. I was amazed at the things I saw. Not much to see though cause most of the attractions are closed for renovation. I did not get to see Dolphins

. Least I can tell people have been to Ocean Park in Hong Kong

. And no if you are wondering if I went to Disneyland, the answer is no. I had to choose between Ocean Park and Disneyland; I figured I would see much of Disneyland in Florida so I chose Ocean Park. One day when I can, I will go to every Disneyland there is in this world

.
Here are the shots I took in Ocean Park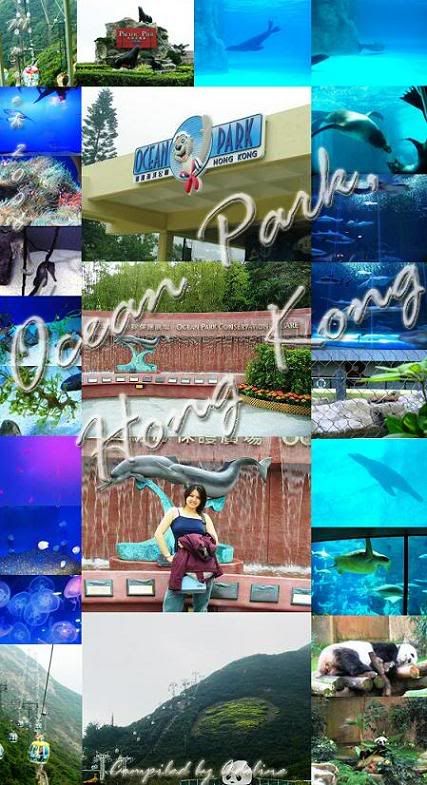 We left Ocean Park by bus to the MRT which also goes back to Mong Kok and HK$11 from Sheung Wan. Should have taken the MRT earlier to Ocean Park

.
Walking around Mong Kok again looking at shop to shop for clothes. Well, I was tired from all the Ocean Park wandering so Corinne shop most of it. I was too exhausted to look anymore

. We bought "Ngau Yuk Yuen" and some other stuff to snack on before going out to a nearby cinema for our horror movie. I took a nap after and my mate decided not to wake me up because I was sleeping so soundly. Well, I presume both of us are too tired to go out again. So I woke up showered and went back to bed.
Tuesday, 7th March 2006:
Last day to be in Hong Kong; Corinne woke up earlier than me and once she was done, she woke me up. Freshen up, pack everything and time to check out. Our flight home was 1810hours. So we went looking for some better "Dim Sum" that my friend from London recommended us. In Sai Yee Street, Restaurant name Lei Garden. We had "Siu Mai", "Har Kau", "Siu Loong Pau", "Char Siu Pau", "Chan Choo Kai" (Like some small wrapped up "Lo Mai Kai", "Chin Hai Min" (Fried Crab Mee) and a Dessert. It was an expensive meal but I must admit it was delicious. All the eating took up our time and we have not much of time left to walk around anymore. So we are headed back to the hotel to wait for our ride to the Airport.
Board the plane and the journey home was all tiring.
Here's proof of me being tired

Look I can't even open my other eye

.
Sorry I did not manage to get any pictures of the food we took. Was too hungry; gobbled it all down before even realizing it

.
Well it was a great trip, though it isn't much of say. Thank you so much, Corinne for your companionship in this vacation. I had a great time even at the little things and if in the trip we had any disagreement, sorry about it and let's forget it all. Hope you all are still awake

.
I am tired now. Gonna grab a nap… See ya all soon.


HIM ~ Join Me