On Friday, I actually made a hole in my palm. Here take a look at it.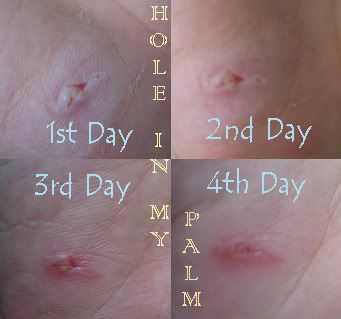 Well, it is at the healing stage now. In fact as of now, I can't really see it as a hole anymore. But damn the first day looks disgusting

. Then again it was interesting to look at

.
How did I get that hole in my palm you ask? Here's the story;
It all started with the next day after Auditors left that we have to place back all the files to their respective shelves. One of the files' rings is kind of out of place so I hit it with my hand to hope it will go back in place. Instead of hitting the ring, I hit the lever (yea careless of me

) and tore my palm's skin open by having the lever poke through it. Bled, aching and when I showed one of my colleague that was afraid of blood, she turned slightly pale

. That is how much blood I have lost that she daren't look at it

.
A friend of my saw the hole in my palm, he actually asked me "Have you seen the movie named Stigmata?"
I replied, "Yes of course."
"What the hell were you thinking?! Trying to be like that woman in Stigmata?"

I laughed like mad

.
He wasn't the only one who said that. I say my friends are insane
.


Ferry Corsten ~ All I Want