I know I know, I am slacking in my blogging

. Well here I am now

(for now

).
Let us take trip back to the past few days event.
14th February 2006, Tuesday:
Valentine's Day and I wish everyone a good love day. Funny I wonder why throughout the day I kept thinking it is Wednesday

. The day was like any normal working for me. Had lunch with a friend in Sushi King, Summit USJ. Thinking (again) that it is Wednesday half price on movie tickets we decided to watch a movie at night. Friend wants to watch Fearless and since I haven't been into the movies or even watched Fearless yet, I said ok. Still thinking it is Wednesday, I was shocked the ticket price is RM16 for two seats. Asking the cashier "Isn't Wednesday a half price or something?" She said yes, then she said "But today isn't Wednesday is Tuesday."

I was like oh yeah! Laughed at myself

.
By night, went for the movie. It was a good movie. I enjoyed it thoroughly. Thank you my friend for a great night though it was just for a movie.
15th February 2006, Wednesday:
Now here is the REAL Wednesday

I am sick sitting in the office torturing myself. Stole my colleague's medicine and fell asleep on my desk

. After feeling all dead, I requested to go home early at 4:30pm. Thank you, Admin for being kind then. Left the office still needing to collect cake and leaving it in Starbucks, doing it all and went home to sleep.
Waking up at about 8:00pm, I sat around had dinner and went to shower. Waiting for Pikey, Caren and Chloe to arrive, I sat around chatting with friends online. They arrive at 10:15pm. Wheeee~ I left the house forgetting Chloe's present

. Arriving at Starbucks the environment was really nice. We should have such more often… well not too much please, I don't want to go broke from drinking there

.
Making a surprise for Chloe but I have a feeling she knew all about it. But well, it was the whole happiness and joy we had thing. I had a great time all. Thanks for the laughter and time given.
Here's a combination of the picture taken with my camera.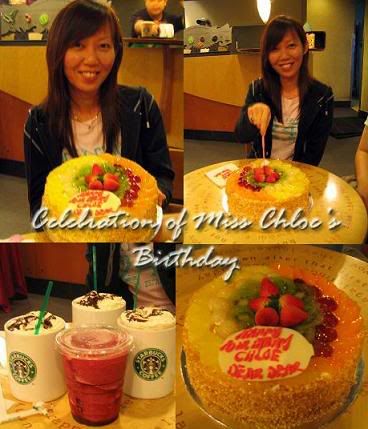 The little things makes the happiest moments. Message on the cake "Happy Birthday Chloe Dear Dear
"
I wish to get those from Chloe of her camera. Then I will post up more. For now this is all I have that is post-able

.
Short summary for my today: Sick, at home, played games and slept through my day.
Until next time, love you all

.


Depeche Mode ~ Lie To Me