I was too tired to blog yesterday but here I am now. I am going to blog about my trip to Singapore for the New Year. Read on…
(Warning LONG entry)

Friday, 30th December 2005:

Boss let us off early today. So we had a Pre-New Year celebration with Vodka limes and of course they gambled. Arriving home at 6:00pm sharp, ate dinner, shower and brother came home to drop me off at the KTM station. Leaving at 8:00pm sharp from my house; got on the train heading towards KL Central to meet up with Pikey, Chloe and Caren to board the International Train going to Singapore.
Boarding train at 10:00pm or so and as usual our Malaysian timing are never punctual so we depart about 10:45pm I think.
On board getting excited and all, we were chatting and sorts. After a while, we all fell asleep (well, some of us did. I know I did

)
Saturday, 31st December 2005:
Waking up at 6am, I was the earliest among most to wake up so I went to get myself ready for the stop at Woodlands, to go by the Customs for inspection. Slowly one by one people start waking up.
Arrival was delayed because train took a wrong route somewhere in the middle of journey. So we arrive at Woodlands an hour late. Train stopped and we all got off at Woodlands still feeling all groggy

with our luggage for custom inspection. After all those we got back on the train and we just chatted until we reach Tanjung Pagar.
Getting off at Tanjung Pagar, we went looking for the MRT but without success, we kind of got lost *lol*

. So looking at the map we have, we tried to find our way. Finally a kind lady offered to lead us there. So we just followed her and finally arrive at the MRT. Purchased the EZ-link and board to head to Bugis wanting to get to our room hoping we can check-in.
Arriving at Bugis I made them three took a BIG round to get to our destination

. Sorry all! My mistake

. Finally reaching The New 7th Storey Hotel and OMG we have a room ready! I was so excited because I was feeling all dirty and uncomfortable and hoping I could shower. Not long, we find out we were given the wrong room because the room we are in is too small for 4 beds and to my luck, our room wasn't ready. Grabbing our luggage we head downstairs and check in our luggage for safe-keeping. Went to the 3rd floor to get water, and eventually we dozed off at the couch waiting for Caren's friend, Alfie to arrive.
11:15am:

Alfie and his girlfriend, Kate arrived, brought us to Wisma Atria in Orchard Road for our brunch. Ate Dao Xia Mian (of something like this

) with some other food like dumplings, and Otak Bread which is amazingly unique and delicious for the mentioned food. Had a cup of Yin Yuang which I must admit is DELICIOUS. After the food, we headed back to Bugis and went our ways to the hotel while Alfie and Kate head for the Temple.
1:00+pm:
We got our room, and we were all so tired and uncomfortable but feeling glad that we got a room. Showered and all, we were ready to go out… wishing to visit the Jurong Birdpark, getting off the wrong station *lol*

, we got back on and reach Boon Lay which is the right one. The sky was dark and gloomy… but with our hopes up, we got on the bus and head to the Jurong Birdpark. Rain was pouring down heavily when we arrive at the park, getting off the bus only to have us standing in front of the park with no place to hide when the rain start wetting us all (Where's an umbrella when I need one right

?), so we decided since we can't see the birds we might as well make an early visit to Chloe's cousin.
Failing to hail all cabs, we were wet and annoyed. Accidentally Caren hailed a Mercedes cab, we were all standing there with mouth gap open

with our minds going "Oh no… this would actually cost a lot." Being a nice man, he let us on and we wetted his seats

. Leather seats I would say. With class we rode to Chloe's cousin's house. Spending some time there, drying ourselves up with a hairdryer and chatting.
6:00+pm:
After waiting for my friend Leonard's reply of where to go, we left Chloe's cousin's place to head to Suntec City. Getting on the bus to the MRT, to go to Suntec City and waiting for Chloe's friend and Leonard to arrive. Chloe's friend Suny arrived at about 7:00pm plus and about 30mins after Leonard came. We went to take a walk at the Fountain of Wealth to make a wish, whether it will come true or not

is another thing. We had dinner and a shop called Just Noodles yet there was also rice to serve *lol*

. After dinner we went to see the Fountain Laser Show, took some videos of it… after that we decided to walk to Marina Bay to park our butts there for the countdown. The place being crowded I was feeling REALLY sticky and dirty but the environment made me forget most of it.
11:59pm:
Nearing the countdown we found a spot at the grass area and stand there chatting while we waited for the countdown. Music started to play from the Marina, we had no idea what was going on because we can see nothing with all the people and trees blocking our view

, well not like we had a choice because when we reach at about 10:00pm plus, it was already filled with people.
Fireworks started to shoot from the ocean (presuming it is from a boat of ship somewhere down there), all the wahs, wows, oohs and ahhs could be heard… screams of joy and wishes of Happy New Year. Videos of the fireworks was shot but am sorry I can't show you all some of it because I don't know how

.
After the fireworks everyone start clearing out. We walked our way back to the hotel with a bunch of people all walking in the middle of the road.
Sunday, 1st January 2006:
12:45am:

Accompanied Leonard and Suny to grab a bus to head home, Leonard got on the bus and left... with Suny which unfortunately no bus came and we tried hailing for cabs for what felt like ages. Finally we decided to head back to the hotel and ask the reception to call us a cab. With fail, tonnes of the hotel's guest can't get cabs either. In the end she bunked with us in our room for the night.
9:00am:
So much for waking up early, most of slept through the night. Pikey obviously did because he heard no one snore *lol* because I did. Showers, getting ready and sorts… we head out to Bugis Junction at about 10:00am for breakfast. Had sausage prata with cheese and stole some of Chloe's mushroom prata with cheese. Unique food and deliciously great… now this makes me wants it again *lol*. Took a picture from the place we sat of the Elavator… Yeah yeah I know it isn't anything new but hey I got memory to waste in my camera

.
11:35am:
Heading back to the hotel to check out, shower and then head off to look for Merlion. After all the delay of us taking pictures with the reception of the hotel, we headed off for our Merlion hunting. Walking around like Fullerton Hotel we kind of fail to find Merlion. Pikey and Caren left at 2:00pm because they were late for their appointment with friend and relatives. Chloe and I continue our walk towards Merlion. Finally seeing it, it was a joy really. Took pictures and all sorts.
2:00pm:
Heading back to Bugis to meet up with Chloe's friends and ex-colleagues. I had a light lunch and at about 3:00pm plus we went on to do some shopping before leaving. Hoping to be able to get some souvenirs, which I failed at that… but I did manage to get myself a Bossini pants for a great price S$25 which is about RM60+. Well, Bossini is no longer in Malaysia so I am glad I got it
.
6:45pm:
Having to leave so we can shower and head to Raffles Place for dinner at Lau Pa Sat with Chloe's cousin, his wife, Chloe's friend Pinky, Suny, Chloe and Caren. There were so much food! I was fille dup to my neck with the food. The place was nice… cool, authentic structure building, and an amazing bell ringing in music thing to tell people the time. It was cool

.
9:20pm:
We headed off to Tanjung Pagar train station, where Pikey is already waiting for us. With minutes to spare because we hop onto a cab to get there, we stroll to the entrance and got on board. We are all so tired but we manage to entertain ourselves by all the laughter and chats with had. The best laughter I had during then was when we tried to use the camera timer to take the picture of four of us. It was all so funny

!
Laughter and all, we finally all fell asleep due to the tiredness. Waking up only when reaching KL Central without realizing Pikey has got off the train at Seremban.
Here are some of the pictures taken. Hope you all haven't doze off yet reading all the above.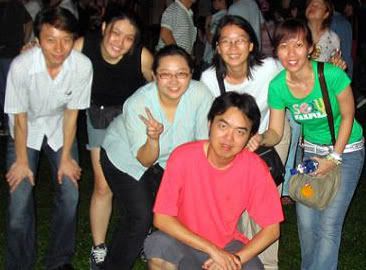 The group in the New Year Countdown at Marina Bay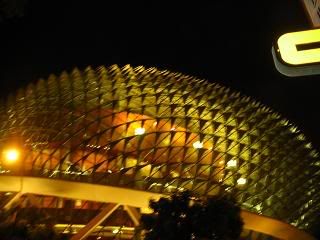 Esplanade, Theatre on Bay at night view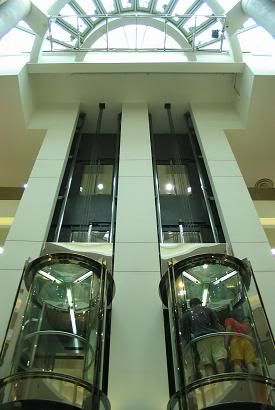 The Bugis Junction Glass Elevator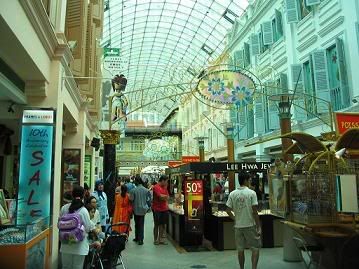 Parco Hylam Street a.k.a. Bugis Square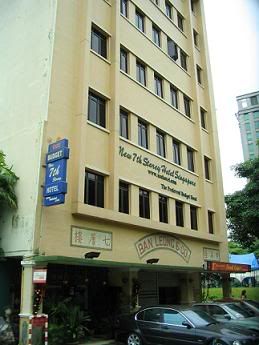 The New 7th Storey Hotel where we stayed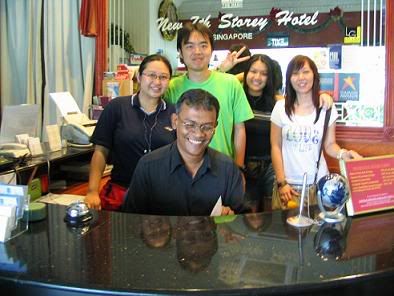 Us with the Reception in the Hotel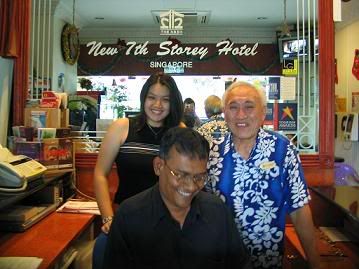 Moi with the Reception and the Lift Operator Uncle in the Hotel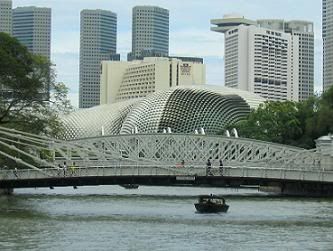 Esplanade, Theatre on Bay at daylight view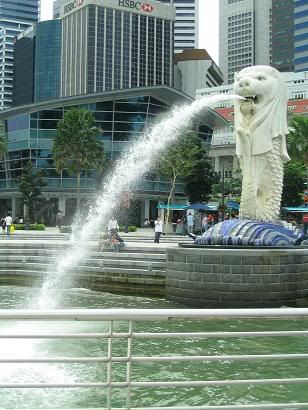 Merlion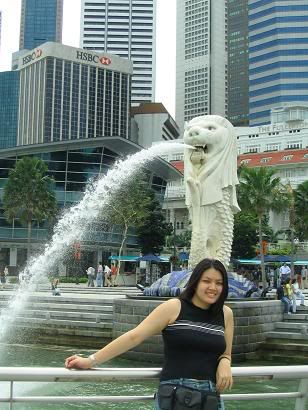 Proof of me in Singapore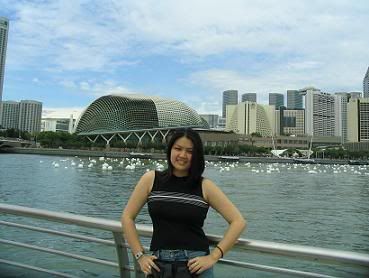 More proof of me *lol*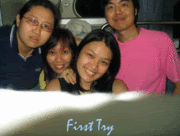 Us trying to use the timer function to snap our pictures.
Well, it was one rushed up trip but it was also a great trip. Especially one of my best New Year celebrated. For once I am not drunk or smelling of cigarettes on New Year. Thanks you Pikey, Chloe and Caren for this great trip! Let's go somewhere else next time

! Will post up more pictures when I get the rest of them from Chloe and Caren, that provided if I am hardworking then

.


DJ Doboy ~ Vocal 7 Mix